Artwork
Painted
Medium
Artist
Artwork
Painted
Medium
Artist
EXHIBITION
ART EXHIBITIONS OF BURY ST EDMUNDS ART SOCIETY
EXHIBITIONS - 2017
BURY ST EDMUNDS ART SOCIETY 2017 EXHIBITION IS NOW CLOSED
We opened our free admission 2017 art exhibition to the public on Friday 16th June at the fabulous Market Cross Gallery. Our members have done some stunning work so thank you to them and we'd like to welcome everyone who came and met us. Special thanks to Council and APEX staff and all the unnamed but much appreciated supporters from everywhere who helped our committee get this exhibition on the road in just over three weeks. Julia Wakelam officially opened the exhibition on Saturday 17th June at midday and awarded a range of four prizes for best in their class.
THE AWARD WINNERS chosen by Julia Wakelam at this years exhibition
Click on a thumbnail image to enlarge -
HIGHLY COMMENDED WORK chosen by Julia Wakelam at this years exhibition
Visitors' favourite exhibit was
Simon Wright with Anastasia
Runner up
Joanna Last with Johnny Cash
Congratulations to both of them.
Photos taken by John Astle on Wednesday 21st June.
___________________________________________________________________________________________________
LAST YEARS EXHIBITIONS FROM OUR 70th ANNIVERSARY YEAR 2016
BURY ST EDMUNDS ART SOCIETY AT THE APEX
Our new exhibition at The APEX in Bury St Edmunds started on the 13th September and was open until 9th October.
This was a fantastic exhibition at the APEX gallery, which is part of the well known APEX auditorium.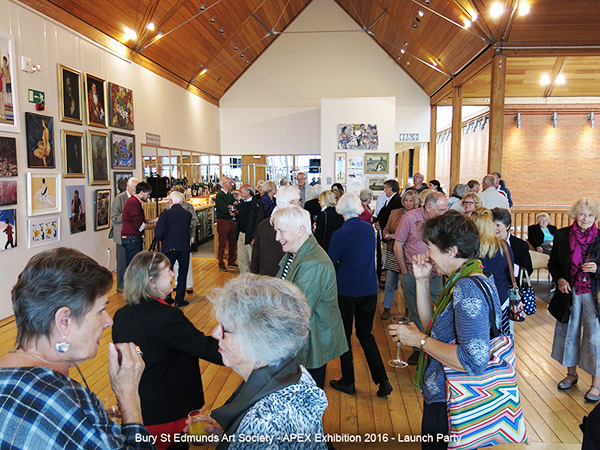 ______________________________________________________________________________________________________
~ FROM EARLIER IN 2016 ~
THE 70th ANNUAL ART EXHIBITION OF BURY ST EDMUNDS ART SOCIETY AT THE EDMUND GALLERY